Screenshots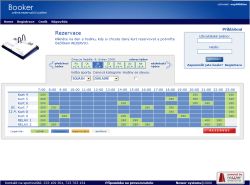 Timetable with free hours
Strategic advantages of the booking system Booker
Service prices evidence
The system is based on the principle of an e-shop, with the objective to sell as many reservations as possible. The customer is precisely informed about offered services, but especially about current prices. Booker precisely files the prices of individual services at particular court, day and time. At the same time, the system makes it possible to set different prices for different types of clients (working, student, VIP client).
Last-minute discount system
The booking system Booker allows to dynamically reduce the prices of unbooked resources.

According to our partners' results, last-minute discounts not only increase the amount of reservations, but also the total revenues of the centre.

The last-minute discount system is convenient in the case, when a reservation in an expensive time is canceled in the last moment. The price of this reservation can be progressively decreased until someone decides to book this reservation.

The discount system is based on a simple principle - the price is being progressively decreased with the starting time approaching.

The progress of the price in time is demonstrated in the following table.



| Booking time | until 11:59 | 12:00 - 13:59 | 14:00 - 15:59 | 16:00 - 16:59 |
| --- | --- | --- | --- | --- |
| Discount [%] | 0% | 10% | 30% | 50% |
| Price | 300 Kč | 270 Kč | 210 Kč | 150 Kč |


The manager can arbitrary choose the time zones before the beginning of the reservation, in which the reservation is discounted.