Screenshots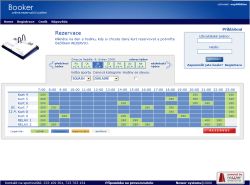 Timetable with free hours
Features of the booking system Booker
Complete electronic administration of reservations All reservations within the sport centre are logged up electronically. As a result, all reservations are clearly and conveniently available both for the centre's staff and the clients. The system monitors who and when made which reservation or canceled it (this may help to prove possible undesirable activities of the staff).
Increase of the centre's visit rate
The centre's clients are percisely informed about free hours, not to forget that some services may be progressively discounted (see the last-minute discount system).
Savings in human resources needed to cocncern about clients' reservations
By using the online reservation system, the amount of telephonic contacts with the centre is significantly reduced.
Better reputation of the sport centre
Gain of useful information about the customers
Information about your customers in the electronic clients database gives you new opportunities - special events for chosen clients (according to the amount of reservations, money spent in the centre etc...)
Courts utilization statistics for management
The system allows visualisation of percentage utilization within individual days of the week and also within time periods in individual days. Thus, the owner can determine which hours of the day are the most profitable and which, on the other hand, would need promoting.