Screenshots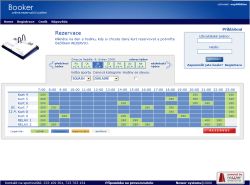 Timetable with free hours
Functions of the booking system Booker
Easy reservation of offered services
Booking system Booker keeps up-to-date information about the prices of all offered services. The client of the center thus can anytime view the currently offered services.
Safe registration of new clients
During the registration process, every new client is sent a verification code, which checks the validity of the mobile number entered by the client. The sport centre thus gains a verified contact to every customer. The booking system can be configured in such a way, that a new client is provided with only a limited number of possible reservations, which can be increased after some time in any way.
The last-minute discount system
A succesful system providing dynamic price reduction of free hours. More information in the last-minute discount section.
System of substitutions
If the time is reserved, the client has a possibility to make a booking as a substitute. If the reservation is later unbooked, the substitute client is informed by SMS, and has a given time (typically 15 minutes) to confirm his booking. Otherwise, the reservation is offered to the next substitute client or unbooked totally.
The system of blocking of chosen users
Customers who have broken the rules of the sport centre can be blocked from accessing the system and reactivated again after the situation has been explained.
Credit-based passes system
The system monitors the credit of registered customers. The customer has a possibility to buy credit advantageously and use this credit to pay for services.
Season passes system
The administrator of the system has a possibility to make a booking for a chosen customer in advance. For example one hour of squash on monday from 6 to 7 pm on court 4, 12 weeks in advance. The customer can unbook his reservation sufficiently in advance. The system then returns his credit for the canceled reservation, and the client can use it for a different purpose.